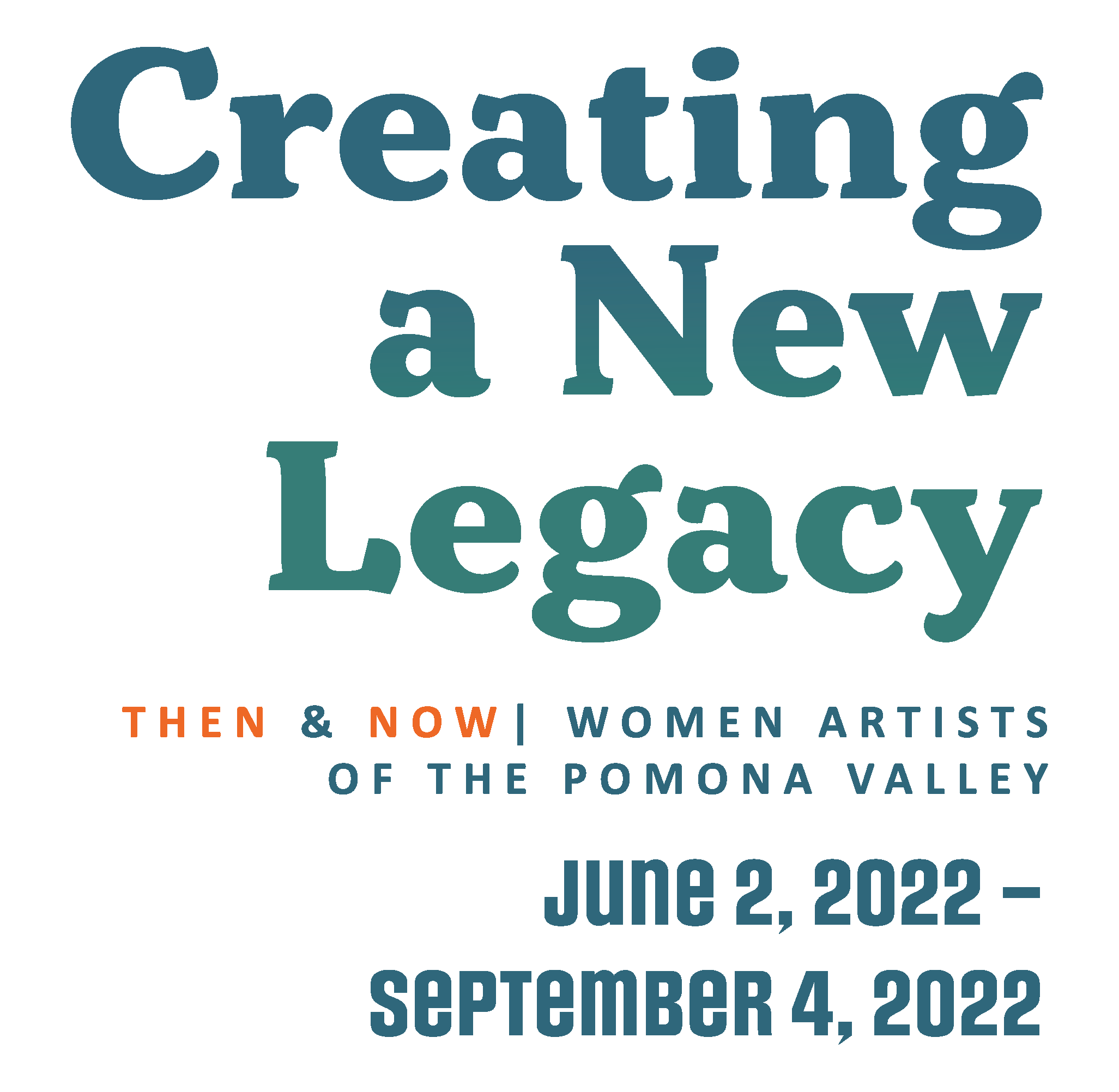 Creating a New Legacy is part of Then & Now: Women Artists of the Pomona Valley, a collaborative exhibition developed with the Chaffey Community Museum of Art.
Creating a New Legacy at the Ontario Museum of History & Art features contemporary artists who have established a footprint in the Pomona Valley while working as teachers, professionals, and mentors. The exhibition highlights the creativity of people with different backgrounds, identities, and expertise in a variety of media.
Artists: Mary Beierle, Domonique Brown, Cellibacello, A'Kailah Byrd-Greene, Gina Lawson Egan, Sumi Foley, Rebecca Hamm, and Dulce Soledad Ibarra.
Founding a Legacy
Founding a Legacy at the Chaffey Community Museum of Art: In the 1940s, the Pomona Valley, centered in Claremont, became a locus of intense artistic creativity. Attracted by Millard Sheets and the educational opportunities of the Claremont Colleges, artists came to this area to learn, live, teach, raise families, and most importantly, to create art. While the contributions of male artists have been documented and celebrated, there has been less attention paid to the women artists who produced equally innovative and original art. This exhibit presents the work of a select group of these innovators who thrived in the artistic culture of the Pomona Valley. To learn more about the Chaffey Community Museum of Art visit ChaffeyMuseum.org
Artists: Jean Goodwin Ames, Florence Arnold, Loren Barton, Betty Davenport Ford, Esther Bruton Gilman, Susan Lautmann Hertel, Helen Lundeberg, Andrée Mendenhall Mahoney, and Martha Menke
Exhibition Related Programs
We welcome you to the galleries and to participate in our free public programming! For more details, information, and event reservation links, please call (909) 395-2510. Please note, that programs are subject to change.  
Community Reception: Then & Now: The Legacy of Women Artists
Saturday, June 11, 2022 | 4 PM – 7 PM
Celebrate the artists from the Then & Now: The Legacy of Women Artists in the Pomona Valley exhibition at the Ontario Museum of History & Art and the Chaffey Community Museum of Art.  While conversing with artists and art enthusiasts, enjoy light refreshments and hors d'oeuvres.
Art Cart Activity: Creating a New Legacy
Friday – Sunday, July 22-24 | 12 PM- 4 PM                                                                                   
Join us for an Art Cart Activity inspired by one of the artists in the Then & Now: Creating a New Legacy exhibit. During this drop-in program, participants will use materials and instructions that follow the artist's practice and make your own work of art. Check out our website for more details on which artist will inspire this activity! 
Artist Talk: Creating a New Legacy
Thursday, July 28, 2022 | 6 PM – 7:30 PM
The Ontario Museum of History & Art is opening its historic council chambers for an evening conversation with the artists from Creating a New Legacy. The moderated discussion will explore the challenges and the successes in the artists' professional careers and art practice. Light refreshments will be provided.  Reservations are required.
Participating Artists: Sumi Foley, Domonique Brown, Rebecca Hamm, Mary Beierle, Cellibacello.  
Moderator: Wendy Slatkin, an art historian with over 30 years of teaching experience, at the college level. She has expertise in all time periods of western art history, from antiquity to the modern age, with a special interest in women artists. Professor Slatkin has published scholarly articles, in peer reviewed publications, and is the author of Women Artists in History (2019, 5th edition) and In Her Own Words (2011). 
Popcorn Chat: Film Night at the Museum
Thursday, August 11, 2022 | 6 PM – 7:30 PM
Grab some popcorn, dress in comfy clothes and join us for a film night! Our film selection will look at stories of resilience, inspire feminist social movements, and shed light on artists and creatives who fight for gender equality. We'll popcorn chat about the film and make connections with Creating a New Legacy. Film to be announced on our website. 
Art Cart Activity: Sketch in the Galleries
Friday – Sunday, August 12-14, 2022  | 12 PM – 4 PM
Visit the Art Cart and grab some sketch paper to take with you into the galleries. Connect with the artworks by following our guided prompts as you experience the Creating a New Legacy exhibition. 

Discover why it has been called both a "Model Colony" and the "Gem of the Foothills."
This exhibit explores the unique history of Ontario—its founding, transitions, people and organizations. Explore Ontario from its roots beginning with the Native Peoples and Californio Rancheros to its founding by the Chaffey brothers.  
The book, Ontario: The Gem of the Foothills by Michael L. Rounds, traces Ontario history from the Native American era to the present day. Many historic images from the museum's collections are published here for the first time. This interpretive history about our community is for sale in the Museum store.