DÍA DE LOS MUERTOS: JOURNEY OF THE BUTTERFLIES
Thursday, October 8 – Sunday, November 8, 2020
Due to our temporary closure based on guidance from state and health officials we will be presenting Día de los Muertos: Journey of the Butterflies virtually through photographs and videos.
Día de los Muertos (Day of the Dead) emphasizes remembrance of past lives and is a celebration of the continuity of life. For Día de los Muertos, the monarch butterfly holds the spirits of the departed. Explore and learn more about the tradition that dates back to Mexico's oldest civilizations through the artwork of local contemporary artists at our annual exhibition showcasing paintings, sculptures, mixed media, photography, and ofrendas (altars).
The Aztecs were a Mesoamerican culture that emerged in the 14th century in what is now central Mexico. Historically the Aztec people would take offerings to the King and Queen, guardians of the Land of the Dead. Although this ancient tradition has evolved over the past centuries the idea of coming together and bringing offerings to those who have passed remains.
Día de los Muertos (Day of the Dead) signifies how we come together as a family and community to honor our ancestors. Throughout the years the Ontario Museum of History & Art has exhibited several community artists who bring their own narrative and voice to what Día de los Muertos means to them.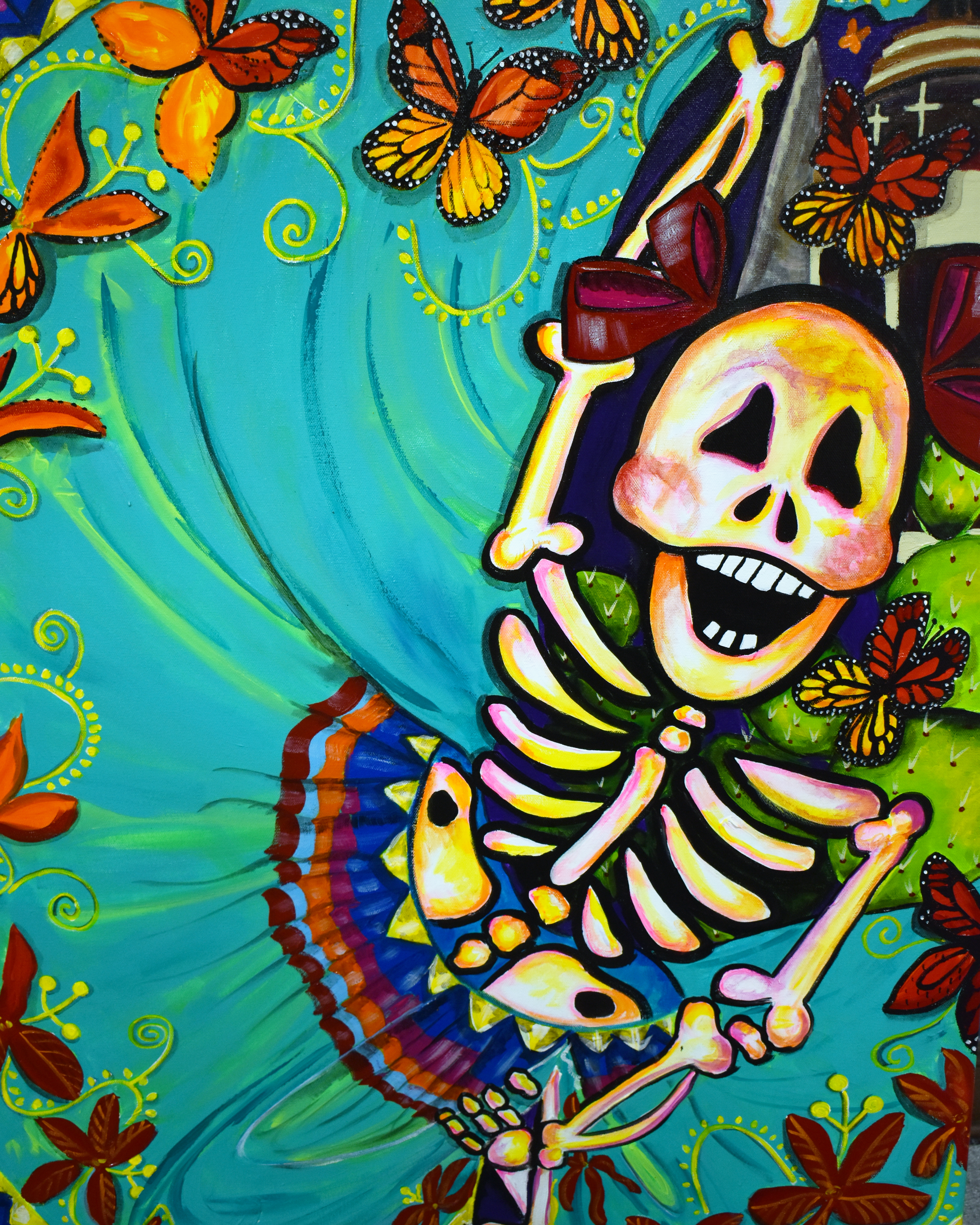 This event is a celebration to honor loved ones who have passed through an altar or ofrenda. Traditionally, families install altars at homes or cemeteries and adorn them with offerings that the departed persons once enjoyed, such as their favorite objects, flowers or treats. This year's exhibit, "Journey of the Butterflies" is inspired by the story of the monarch butterfly in Michoacán, Mexico. Locals believe the returning of the monarch butterflies are souls of ancestors who are back to visit the living. The monarch is a reminder to us how life continues after death and how loved ones will always be remembered.
Photo credit: Debbie Fuentes, Un Viaje de las Mariposa, date unknown, photo courtesy of the artist.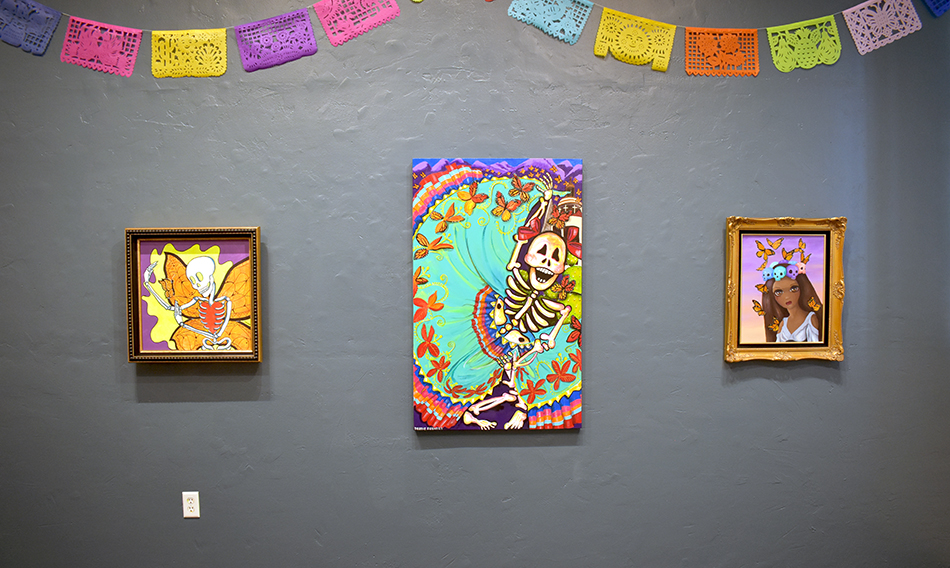 Thank you to everyone that participated in this year's Día de los Muertos: Journey of the Butterflies exhibition. 2020 has been an unprecedented year and while our doors remain closed to the public, the Museum is committed to continuing its exhibition and programming schedule. Museum staff is working diligently behind the scenes to present quality virtual exhibitions on our new website, OntarioMuseum.org. We would not be able to do this without the support of the Community Life Culture Agency, Museum Board of Trustees, our community, and wonderful artists.
Artist List: Saul Aguilera, Allyson Allen, Ellona Allen, Bill Anderson, Gloria Toti Bell, Lisa Cabrera, Arthur Carrillo, Frank Carrillo, Dee Marcellus Cole, Jessica Cruz, Pablo Damas, Amaya Diaz, Sierra Diaz, David Flores, Tom Fontanes, Debbie Fuentes, Camila Gallardo, Viola Gallardo, Bebop Garcia, Sandy Garcia, Kathleen Jacobson, Alex Ledante, Heriberto Luna, Kieran Maddox, Irene Nuñez, Marylucille Nuñez, Leilani Ofisa, Ontario Museum of History & Art Staff, Riea Owens Juan Pacheco, Francisco Palomares, Theresa Polly-Shellcroft, June Ramirez, Belinda Ramirez, Yolanda Reyes, David Rosales, Lisabella Russo, Anishka Samuels, Raymond Gonzales Sloan, Virginia Vilchis, Chris Wesley, and Patricia Woodlin.
Día de los Muertos city-wide ornament contest
Ornaments submitted by participants from the city-wide contest are on display in the exhibition. This is a collaborative project made possible by the City of Ontario's Community Life Culture Agency.
This exhibit explores the unique history of Ontario—its founding, transitions, people and organizations. Explore Ontario from its roots beginning with the Native Peoples and Californio Rancheros to its founding by the Chaffey brothers.
The book, Ontario: The Gem of the Foothills by Michael L. Rounds, traces Ontario history from the Native American era to the present day. Many historic images from the museum's collections are published here for the first time. This interpretive history about our community is for sale in the Museum store.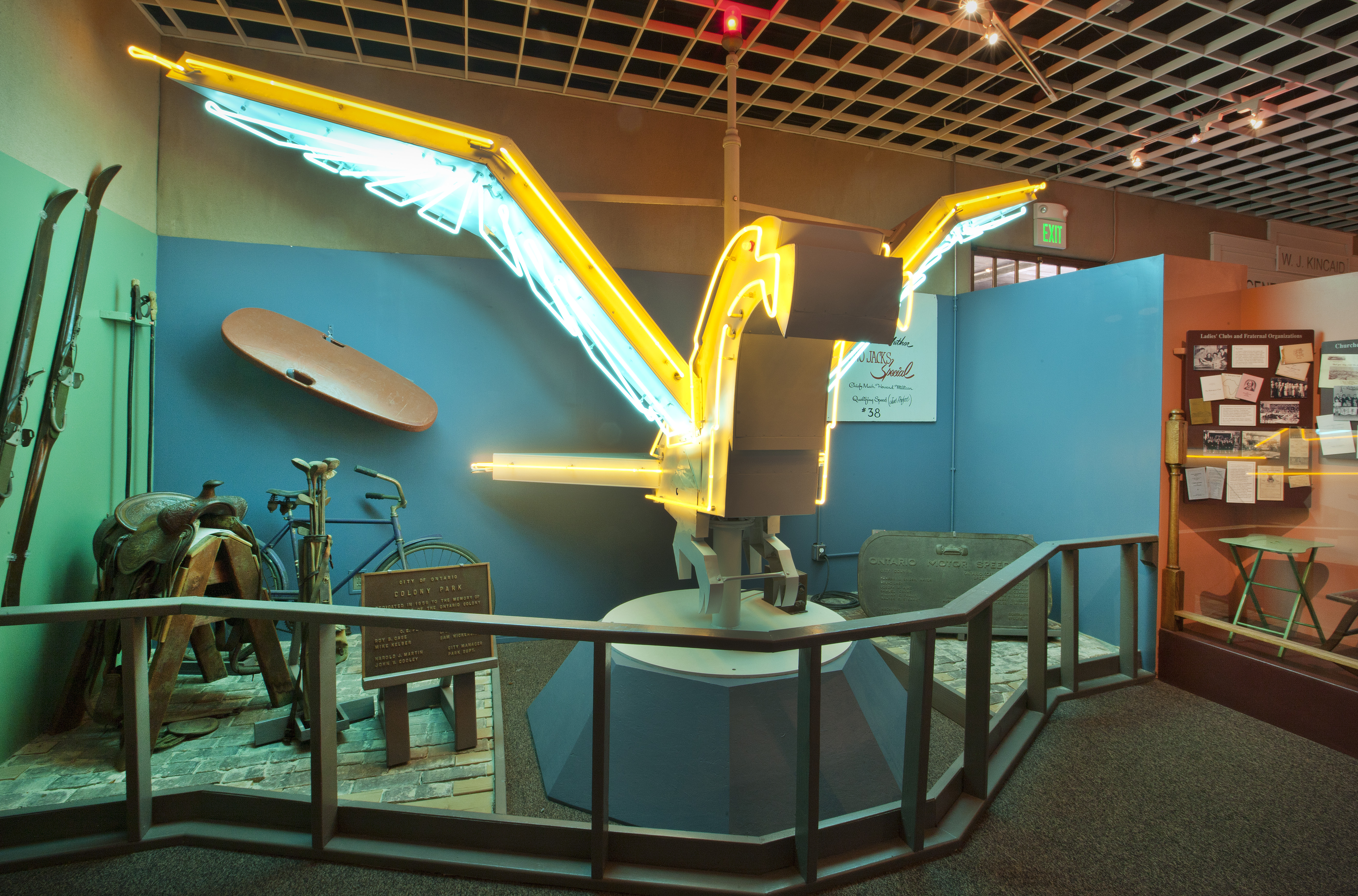 Discover why it has been called both a
"Model Colony" and the "Gem of the Foothills."